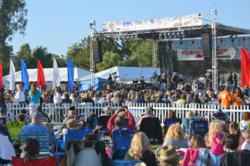 More than 30 musicians help local college station celebrate birthday! Read more here - KSBR Birthday Bash Jazz Festival Announces Line-Up
If you are a member you probably have already received our recent CBInsight newsletter filled with tons of great information.  If you haven't received it or not a member yet, you can still check it out here - 12spring
After a week away we are back with our final month of Weekly Showcase stations for the Spring semester! Who better to start us off than the recently announced mtvU College Radio Woodie award winner 90.5 WASU FM at Appalachian State University!
Founded in 1972 WASU is celebrating their 40th Anniversary this year! WASU is a non-profit station completely student-run.  They broadcast a wide range of music and shows as well as work with local musicians and organizations to help the community. Not only did they recently win the mtvU Woodie award, but they were also added to the iHeart network earlier this year.
To check out more from this awesome station check out the links below!
Facebook   –   Twitter   -   Live Stream
The San Gabriel Valley Tribune wrote a story this weekend about a reality television course at Mt. San Antonio College in Walnut, CA. Dan Smith teaches a hands-on approach to 25 students each semester on how to shoot a reality TV show. Reality TV has a very different production style than a typical narrative script format, so Smith teaches them how to be ready for anything. One of his lessons involves re-creating a scene from a show, such as "Survivor." The class has produced a handful of successful students who now work on various reality television shows.
To read the article and watch the news story check out – Reality TV Lessons Come to Mt. Sac
Our Weekly Showcase station this week is Brockport Television and Production broadcasting from The College at Brockport: State University of New York. The station started in 1999 with just one show called "Watch This Show".  Since then, they have grown into a production facility that provides students the opportunity to actively engaged in regular television productions.
One of their regular programs is the Brockport News Network, which covers all the latest news on campus.
They also provide an impressive weekly weather forecast on their Facebook page, which you can watch here – Weather 3/6 to 3/11
Another one of their regular programs is the Eagle's Nest, which covers all the sports action at Brockport.
They also cover various events such as the Harry Potter Flash Mob that took place on their campus last Spring.
To see more from this talented station check out the links below:
Our Weekly Showcase station this week is Radio DePaul broadcasting from DePaul University in Chicago! This award-winning student run station plays a wide variety of music from pop, dubstep, indie, retro, and much more; as well as talk, news, and sports shows.
Radio DePaul has had some great national exposure this year when iHeartRadio chose them as one of the first 14 college stations to be added to their services.  They are also one of the top 10 stations up for the mtvU College Radio Woodie award!
Included on their website is a great video explaining who they are and what it is like at their station!
To listen to this talented station check out their live feed here – Radio DePaul Live! And to follow them on the world wide web check out their social media sites below:
This week we are showcasing ACRN (All Campus Radio Network) broadcasting from Ohio University! Founded in 1971, the all student-run station has a long and rich history. Since 1999 the station has been a 24/7 webcasting power house playing a "college rock" format but also including speciality shows ranging from hip-hop, metal, punk and classic rock.
The station uses their website and social media in creative ways to interact with their audience. They offer four different blogs from their staff talking about the latest music news and they have a Tumblr page that features photos from recent shows.
They also produce videos to highlight local bands and recent guests!
To listen to this awesome station check out their live feed – ACRN Listen Live! And to find out more about ACRN – The Rock Lobster check out the sites below:
Facebook   –   Vimeo   –   Tumblr   –   Flickr   -   Twitter
Yesterday, the top 10 schools in the mtvU College Radio Woodie Award were announced and 5 out of the 10 our CBI members!
CBI Member Stations Nominated for College Radio Woodie:
ACRN - Ohio University
Radio DePaul - DePaul University
WASU - Appalachian State University
WLOY - Loyola University Maryland
WPTS - University of Pittsburgh
You can vote for the stations at http://blog.ratemyprofessors.com/collegeradiowoodie/
** We apologize!  We forgot to include ACRN - Ohio University and Radio DePaul – DePaul University in our previous post of CBI members up for the top 25! Congrats ACRN and Radio DePaul!!!
Fellow CBI Members:
I am pleased to announce that this fall, for the first time ever, CBI will present its own convention, to be held October 25 – 27, 2012 at the Sheraton Atlanta Hotel in downtown Atlanta.  UPDATE: The convention website is now open.

The CBI National Student Electronic Media Convention is the only conference dedicated exclusively to the interests of student radio stations, TV/video outlets, and webcasters. Held in one of America's media capitals, the conference will feature three days of interactive sessions led by broadcast professionals and your peers, as well as the presentation of the National Student Production Awards.  
While our past convention partnerships with CMA and ACP have been fruitful, the CBI Board of Directors is excited about this opportunity to put the interests of student broadcasters first. With an exclusive focus on issues related to student radio, TV, and online broadcasters – as well as an affordable, conveniently located venue – we are confident that our convention will be the most beneficial experience your station will have this year.  
As with all CBI initiatives, this will only succeed with the support of our membership. Please begin making your plans to join us. We are also looking for members to share their expertise by submitting a session proposal. Registration, session proposal information, and additional details will be distributed in the near future.
We look forward to seeing you in Atlanta and, as always, welcome your feedback. 
Thank you, 
Greg Weston
CBI President
grw8@pitt.edu
Olivia Yankey from CollegeMagazine.com wrote an article asking "When was the last time you listened to your campus radio station?" and stating that "College students are a part of the age group that's abandoned radio faster than anyone else in the U.S. With iPods, music-enabled smart phones and websites like Pandora and 8tracks, it isn't hard to see why radio listenership of all types has been on the decline." It also discusses what some stations are doing to get fellow students interested in their station. To read more from this article click on the link – The Case for College Radio